La Mirada

High School




Class of 1972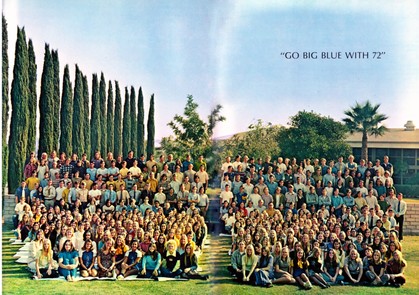 A Holiday Party at Terry's House!
Please join us to celebrate our second holiday party at Terry's house, including a walking tour of her Brea neighborhood to see their fantastic and award-winning Christmas light displays! Tickle your fancy? If so, please see the details below in the "Announcement" section (Photo of Terry and Jackie at last year's party).

46% and climbing!!!
Nearly half of our class has already registered with this site. Many of us have taken the time to fill out profiles with information about what they have done and what they are doing now. I find it really interesting to see the tremendous variety of things we have done with our lives and I think many others do too. If you haven't filled out your profile, please do!! We really are interested in finding out where you have been since graduation and what your are doing now.
We have a Facebook group for fellow class members at http://www.facebook.com/groups/lmhs1972. After you join Facebook, you can click this link (or enter this link while on Facebook), and ask to join. One of the group administrators will then add you to to our group where you will have immediate access to photos, videos, and stories shared by your classmates (As of 8/21/2012, we have 176 classmates who have joined our Facebook group!!!).
ANNOUNCEMENTS
Circle your calendars, and save the date on Saturday, Dec 14th! Come join us for our second annual tour of my neighborhood to see the awesome Christmas light displays!!! If interested, let's meet at my house at 257 N. Goldenrod St, Brea, CA 92821 at 6:30 pm for appetizers and cocktails before the tour. If you would like to bring an appetizer that would be great! Please let me know by responding to the survey below, or replying to the event invitation to be posted on our Facebook page!

Terry (Grossberg) Christenson


You must be logged in to submit this survey. Please use the login box in the upper right corner.


| | |
| --- | --- |
| 1) | * How many persons will be attending, including yourself? |
2)
Will you be bringing an appetizer?

Yes No