La Mirada

High School




Class of 1972
ANNOUNCEMENTS
•

60-YEAR BIRTHDAY BASH:

Posted 9/9/2014: CORRECTIONS: The group rate on the weekends should read $59.99/night + tax (not $45/night). And when making your reservations, ask for Group Code "C-BDY14" (not "Gary Christopher"). Please make your reservations by Oct 17 to get the group rate! Message below revised accordingly. Sorry for the confusion!

Posted 9/8/2014: The following provides you with the details of our 60-Year Birthday Bash to celebrate our milestone birthdays together with Gary Christopher, Launa (Larsen) Lyon, and Vickie (Payton) Christopher on Saturday, November 1, 2014. If you haven't already done so, please RSVP for this event by clicking the "SURVEY: Birthday Bash" link.

Who's Going? As of 9/24/22, the following persons will be attending: Birthday Kids (Gary, Launa, and Vickie), Baron and Barbara Temple, Cathy (Hatridge) LaVallee, Chris and Jeanie Kawate, Harry and Patti Scott, Kevin O'Connell, Laurie (Nelson) and Ron Van Diest, Mike Cartelli, and Trudy (Monian) Tedder.

TIME AND DATE: 6:30 pm, Saturday, November 1, 2014

WHERE: The Vineyard Ristorante
Aquarius Casino Resort
1900 S Casino Dr, Laughlin, NV 89029

RESTAURANT PRICE RANGE: Entrees range from $15 to $30 and up. The menu features authentic Northern Italian cuisine and specialty pastas, seafood, steaks and chicken. We will have between 15 to 20 persons. Since the restaurant will only give out one check, please keep track of what you (and your spouse or friend) order, and make sure to add 18% tip + 8.1% sales tax. The menu and prices can be found by clicking "Vineyard Menu" at http://www.aquariuscasinoresort.com/Dining/Fine-Dining

HOTEL RESERVATIONS: Many of us will be arriving on Friday, and departing on Sunday. If you plan to stay at the Aquarius, please call their reservations department at 800-662-5825, and book your room under "C-BDY14" to get the special group weekend rate of $59.99/night + tax (and of course, use your credit card). If you plan to arrive earlier or depart later, the group weekday rate is $29.99/night + tax. Please make your reservations by Oct 17 to get the group rate. Please note that we will get this rate provided that ten rooms are reserved under "C-BDY14." Otherwise, the weekend rate is $70/night + tax. So far, it looks like we have ten rooms, but I will immediately let you know about any changes.

INFORMAL ACTIVITIES: TBA

HOPE TO SEE YOU THERE!!!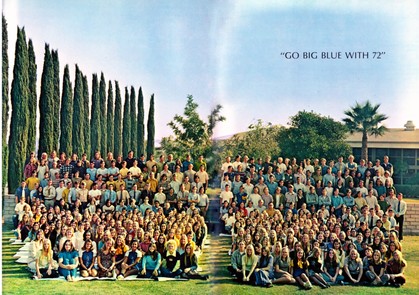 47% and climbing!!!
Nearly half of our class has already registered with this site. Many of us have taken the time to fill out profiles with information about what they have done and what they are doing now. I find it really interesting to see the tremendous variety of things we have done with our lives and I think many others do too. If you haven't filled out your profile, please do!! We really are interested in finding out where you have been since graduation and what your are doing now.
We have a Facebook group for fellow class members at http://www.facebook.com/groups/lmhs1972. After you join Facebook, you can click this link (or enter this link while on Facebook), and ask to join. One of the group administrators will then add you to to our group where you will have immediate access to photos, videos, and stories shared by your classmates (As of 8/21/2012, we have 176 classmates who have joined our Facebook group!!!).