La Mirada

High School




Class of 1972
ANNOUNCEMENTS
•

LUNCH AND WINE TASTING TOUR IN TEMECULA, CA: On Friday, September 19, come join Christy (Anderson) Tobey and other Matadores, and immerse yourself in the world of fine wine in the pleasant and relaxed wine country atmosphere of Temecula, CA. Interested? To RSVP for this event, please complete the survey immediately below as soon as possible. Space is limited!!

LUNCH: 11:30 am – 1:30 pm

Walking into Carol's is somewhat like walking into a medieval or European castle. A huge floor to ceiling fireplace dominates the dining room, also known as Bacchus Hall. The menu features a variety of beautiful entrée salads, appetizers, sandwiches, fresh fish, steak, and pasta dishes.

WINE TASTING TOUR: 1:30 pm – 3:00 pm

Mount Palomar Winery

33820 Rancho California Road

Temecula, CA 92591

Phone: 951-676-5047

Price: $12.80 per person

Thanks to Christy, who works at Mt Palomar, we are receiving a 20% discount off the tour price. And while Mt. Palomar normally doesn't do wine tours this time of year, she made special arrangements for us. Our tour will be personally conducted by their master winemaker James Rutherford! By the way, if you do not enjoy wine, don't worry. They have an extensive selection of beer, soda and sparkling waters.

Hope to see you there!!!


You must be logged in to submit this survey. Please use the login box in the upper right corner.



1)
* How many persons in your party, including yourself, will be joining us for lunch?



| | |
| --- | --- |
| | Sorry, I am unable to attend lunch. |

| | |
| --- | --- |
| | 3 or more persons (please specify) |

2)
* How many persons in your party, including yourself, will be joining us for the wine tasting tour?



| | |
| --- | --- |
| | Sorry, I am unable to go on the wine tasting tour. |

| | |
| --- | --- |
| | 3 or nore persons (please specify) |

•

60-YEAR BIRTHDAY BASH (Revised Date): Due to a scheduling conflict, the date for our 60-year birthday bash has been changed to Saturday, November 1st. Meanwhile, we hope you can attend and celebrate our 60-year birthdays together by joining Gary, Launa, and Vickie for their milestone birthday dinner in Laughlin, Nevada. To RSVP for this milestone event, please complete the survey by clicking the "SURVEY: Birthday Bash" link. In September, we will announce the details based on our survey results.
UPDATE: As of August 30, the following persons will be attending: Birthday Kids (Gary, Launa, and Vickie), Baron and Barbara Temple, Cathy (Hatridge) LaVallee, Chris and Jeanie Kawate, Harry and Patti Scott, Kevin O'Connell, Mike Cartelli, and Trudy (Monian) Tedder.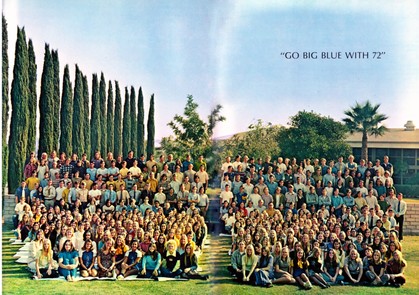 47% and climbing!!!
Nearly half of our class has already registered with this site. Many of us have taken the time to fill out profiles with information about what they have done and what they are doing now. I find it really interesting to see the tremendous variety of things we have done with our lives and I think many others do too. If you haven't filled out your profile, please do!! We really are interested in finding out where you have been since graduation and what your are doing now.
We have a Facebook group for fellow class members at http://www.facebook.com/groups/lmhs1972. After you join Facebook, you can click this link (or enter this link while on Facebook), and ask to join. One of the group administrators will then add you to to our group where you will have immediate access to photos, videos, and stories shared by your classmates (As of 8/21/2012, we have 176 classmates who have joined our Facebook group!!!).